The Lymiad

An invitation to subscribe to the publication of

'A Poem in the form of Letters from Lyme to a friend in Bath written during the autumn of 1818 by an Unknown Gentlewoman.'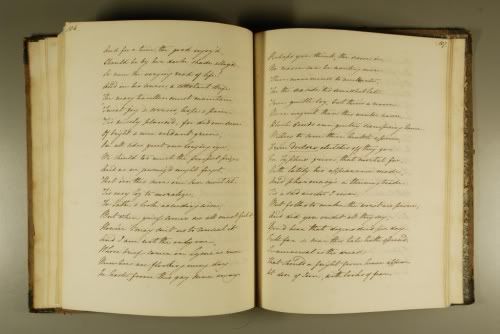 In 1978 the artist Laurence Whistler gave this bound manuscript, some 80 pages long, to the Lyme Regis Philpot Museum, where it is on display. The writer John Fowles had just started his ten-year stewardship of the Museum as its Honorary Curator, and from the first regarded The Lymiad as among the Museum's most precious possessions: for its verve, wit and satirical humour, its vivid evocation of the manners and pastimes of a small Regency resort and above all for its acute observations of the town, its people and their preoccupations. Sadly John Fowles died in 2005. The Lyme Regis Museum's publication of The Lymiad will be dedicated to his memory.

During the 1980s John Fowles made a transcript of the poem, prepared a general introduction and some explanatory notes on local references, and always cherished hopes of its publication.

In 1997 the manuscript, on display in the Museum, caught the attention of Dr. John Constable, then Professor of English Literature in Kyoto University. His brief glimpse persuaded him, too, of the poem's quality. After consulting John Fowles, over the next few years he checked and studied the transcript and wrote a substantial introduction, with particular reference to the accomplished metrical variations and structures as well as the social, political and local settings.

In John Constable's words The Lymiad emerges as "a highly political and a thoroughly Whig poem, with some leanings towards the left of that party, though stopping short of Radicalism itself."

The edition is not a facsimile of the manuscript; it is designed as it might have appeared if it had been published in 1819: of some 200 pages, soft-back but with stitched pages and card covers marbled in the Regency manner. It will contain:
an essay by John Fowles on 'Lyme in the early 1800s', which he polished in 2003 from his original introduction;
a general introduction and textual note by John Constable;
a transcription of the text, editorial notes by John Fowles, John Constable and Jo Draper;
illustrations from the Museum's rich collection, selected by Jo Draper.
The Museum has already secured grants towards the cost of production from charitable foundations and other donors. To complete the task of publishing this important manuscript we need 100 subscribers at £20 per volume, whose names will be recorded in the publication itself.

We hope you will subscribe. Please complete and return the form below.

---
Subscription to the publication of The Lymiad



To: The Curator, Lyme Regis Museum, Bridge Street, Lyme Regis DT7 3QA

Tel: 01297 443370 Email: curator@lymeregismuseum.co.uk



From: ____________________________

Address: _______________________________________________

City/State: ______________________ Postcode/Zip Code ____________

Country: ___________________

Telephone number: ___________________

Email: _______________________________________________

I/we undertake to subscribe to ____ copies of The Lymiad at £20 each, once sufficient subscriptions have been received, and for my/our names then to be recorded in the publication.

Signed: ___________________________________________________



Please do not send your subscription at this stage. We will advise you once we have raised the cost of publication.

Download a copy of this subscription form (PDF 127K)